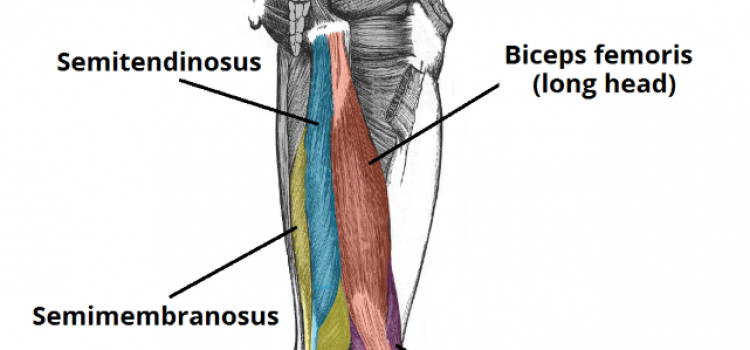 Hamstringy a jejich poranění
Jedno z nejčastějších sportovních poranění. Dochází k němu nepřímým mechanismem, v případě pole dance tréninku typicky při strečinku s vidinou vytouženého provazu. Může se to stát ale například i při běhu nebo nášvihu.
Trocha anatomie: Hamstringy jsou svaly na zadní straně stehna. Patří mezi ně dvojhlavý sval stehenní (biceps femoris), poloblanitý (semimembranosus) a pološlašitý (semitendinosus) sval.  Začátek těchto svalů je na sedacím hrbolu.  Dvojhlavý sval stehenní se upíná na hlavičku lýtkové kosti (která je na zevní straně bérce) a poloblanitý a pološlašitý sval se upínají na vnitřní stranu horního konce holenní kosti.
Jejich funkcí je extenze v kyčli (zanožení),  flexe (ohnutí) kolene  a při ohnutém koleni i zevní  (dvojhlavý sval) a  vnitřní rotace (ostatní 2 svaly) v koleni.
Míra poškození může být různá od natažení až po jeho natržení, kdy se může jednat o jednotlivá svalová vlákna, rozsáhlejší trhliny a v nejhorším případě o kompletní přetržení celého svalu.
Jak to poznám? Náhlá bodavá bolest na zadní straně stehna, nejčastěji pod hýždí, někdy doprovázená slyšitelným prasknutím, někdy vznik modřiny nebo otoku, bolest na dotek a omezení rozsahu pohybu hlavně do předklonu (ve směru, kterým se sval protahuje).
Co s tím? Rozsah poškození se dá vyšetřit u lékaře a to nejčastěji ultrazvukem, lékař poté doporučí vhodnou terapii. V akutní fázi první 1-2 dny chladit a dodržet klidový režim, je možné sval stáhnout elastickým obinadlem, užít léky proti bolesti, zánětu a otoku. Dle tíže poranění se poté postupně začíná s protahovacím a posilovacím cvičením. Délka hojení závisí na tíži poškození, při natažení a mikro trhlinách je možný návrat k plné zátěži po 6-8 týdnech, ale v případě většího poranění to může být až 1 rok. Platí, že čím je poranění blíže k úponu a také čím větší je poranění, tím déle trvá hojení. 
Jaké jsou rizikové faktory? Nestejně silné hamstringy na levé a pravé dolní končetině, nerovnováha mezi svaly na přední a zadní straně stehna, zkrácení flexorů kyčle, nerovnováha mezi svaly břicha a zad.
Vidíte zde důležitost tréninku na obě strany, držení těla a správného posilování? Nutno také myslet na předchozí zranění, protože trhlina ve svalu se hojí jizvou, která je vždy méněcenější než původní sval, a proto je k poranění náchylnější. Nezapomínejme ani na věk.
Komentářů: 39417