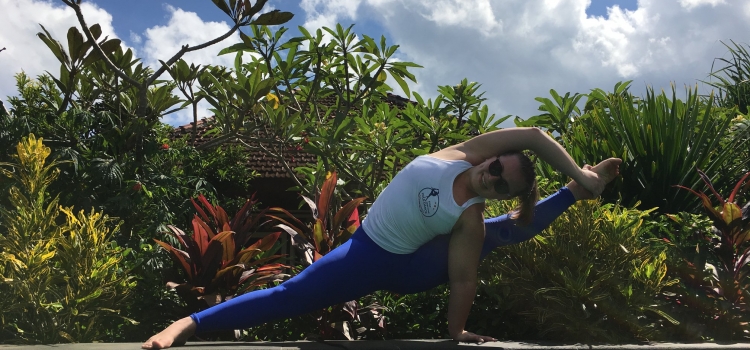 10 nejčastějších chyb, aneb proč ten strečink nefunguje
Snad každý kdo někdy dělal nějaký sport došel do bodu, kdy zjistil, že pro další progres musí zvětšit svůj rozsah pohybu. U pole dance to platí daleko víc než u většiny ostatních druhů cvičení. Většina pozic, které se pole dancerka naučí, jsou náročné nejen na sílu, ale i na flexibilitu, koordinaci a dynamiku pohybu. Jejich příprava je tak velmi specifická a ač se podle nejnovějších výzkumů nedoporučuje strečink v den tréninku, tak u pole dance to prostě neplatí. Podívejte se na nejčastější chyby se kterými se setkáváme.
Musím dát provaz. Vůbec ne! Jasně, je to super, je hrozně fajn ho umět, prvky budou vypadat úplně jinak, ale některým lidem ta pozice prostě souzena není. Ne všichni mají stejně tvarované kyčle, ne všichni máme stejné napětí svalů. Určitě znáte minimálně jednu osobu, která je zatuhlá ať dělá co dělá. Neustále maká, snaží se a nepohne se ani o centimetr. To vůbec neznamená, že by toho měl takový člověk nechat, uvolňovat a protahovat "rigidního" klienta je daleko důležitější než toho mobilnějšího, ale je fajn si nastavit cíle. Protahujeme pro zdraví a větší hybnost je vedlejší efekt.

Když to nebolí, tak se nic neděje. Je to spíš tak, že když to bolí, tak je něco špatně. Pokud strečuješ tak, že se potom týden nehneš, tak ten strečink efekt prostě mít nebude. Došlo k mikrotrhlinám na svalu a ten aby se zahojil, stáhne se místo, aby se protáhl. Když mi něco ublíží, tak se stáhnu, sval není hloupej. :)) Jednoduchá rovnice.

Když to nedám sama, musí mi někdo pomoct (rozuměj, zalehnout). Asistovaný strečink samozřejmě je důležitá metoda, ale zase záleží komu ho dělám. Rigidní typ člověka pomoc potřebuje, ale přesto jen jemnou. Nasadit strečink používaný v gymnastice pro děti na 30 letou paní bez zkušeností, je zničující.

Záda se protahují v záklonu. Páteř má křivky. Vypadá trošku jako kroutící se had. Prohýbá se u krku a beder, kulatí se u hrudníku a kostrče. Většina žen trpí takzvanou hyperlordózou, přehnaným prohnutím páteře v bederní oblasti, a pro ně bude tím pádem daleko důležitější rozhýbat hrudník a zpevnit břicho, aby to všechno fungovalo. Jakmile je někde něco výrazně vychýlené, tělo se to pokouší vyrovnat a nejčastěji úrazem. Obecně je nejúčinější protáhnout třísla a přední část těla a vytahovat páteř do délky. Ne za každou cenu, ale pocitově se k každém záklonu nejdřív napřímit a nezapomenout na ostatní směry pohybu.

Na začátku stačí dynamický strečink. Stačí i nestačí. Záleží, co si pod tím pojmem představujeme. Vhodné je se nejdřív zaměřit na jemné rozhýbání kloubů celého těla, zapojit dynamické pulzace a míň už kopy, či kmity. Právě kmity zvyšují riziko zranění svalové tkáně až o 60% a to už je docela velké číslo.

Když jsem flexibilní, nemusím nic dělat. Čím má člověk větší rozsah pohybu, tím jsou pro něj samozřejmě některé věci snažší. Zároveň se tím ale zvyšuje důležitost posílení svalstva kolem dost pravděpodobně hypermobilních kloubů Všeho moc škodí. Ať jsme jakýkoliv typ, na začátku tréninku se musíme rozehřát, připravit a zapojit kompenzační cviky tak, aby vše bylo v rovnováze.

Strečink je hlavně o pozicích. Strečink je hlavně pro každého něco úplně jiného. Zatímco jednomu stačí dělat denně 8 pozic a všechno je v pořádku, někdo jiný potřebuje pomoct nejdřív uvolnit svalstvo a naučit se dýchat. Každý jsme jiný, žijeme jinak, jíme jinak, spíme jinak a tak je třeba zařadit i strečink. Neexistuje jedna perfektní cesta pro všechny.

Na protažení předního stehna si musím chytnout nohu ve výpadu. To se dělá hodně, málokdo zná jiný způsob protažení. Při tomhle cviku je největším problémem koleno. Přinedostatčeném rozsahu pohybu je obrovská váha na čéšce, což zvyšuje riziko zranění. Daleko účinější je nechat zadní nohu na zemi, vypodložit koleno a a jen jemně protačovat pánev vpřed.

Abych protáhla hamstringy, musím dopnout nohy. Když už to jde, tak jo. Trup by ale stále měl být v kontaktu s dolními končetinami, aby nedošlo k přetížení zad. Když se potahuje jedna část, má vliv na druhou. Celé naše tělo je prokryto pojivovou tkání, která může vlivem pohybových stereotypů nebo nedostatkem pohybu zatuhnout a my se tak můžeme dřít jak chceme, ale než vyřešíme problém u této povrchové tkáně, tak ty hamstringy nepustí a nepustí. Zkuste zjemnit, respektovat svoje limity a posouvat je bezpečně. Nikdy nejde jen o jednu věc, vždycky je potřeba brát tělo jako celek.

To nedám. Je to moc komplikovaný, těžký,… Málokdy jde o to co, ale skoro vždycky o to jak. Všechno není pro všechny, ale každý se můžeme posouvat. Stačí najít svojí cestu.
Komentářů: 69045